Skip to Content
Professional Garage Door Installation Services in Oviedo, FL
Family-Owned & Operated Garage Door Company
When it comes to your home in Oviedo, FL, H&H Garage Doors is the go-to choice for exceptional garage door installation services. With a track record of over two decades serving the Orlando area, we have established ourselves as a reliable and trusted provider of residential and commercial garage door solutions. Our experienced team understands the significance of a fully functioning garage door in ensuring the safety and accessibility of your property. Whether you need to replace an old door or want to upgrade to a stylish and efficient new model, we have the expertise to deliver outstanding results. Take the first step towards a secure and hassle-free garage – reach out to H&H Garage Doors today and schedule your installation.
Our Comprehensive Residential Services
We provide a comprehensive range of residential garage door services to ensure the functionality, security, and aesthetic appeal of your garage. From fixing broken springs to installing custom overhead garage doors, our team of experts is dedicated to delivering exceptional results. Explore our residential repair services below:
Broken Spring Repairs – Our skilled technicians specialize in repairing broken garage door springs, ensuring smooth and safe operation while extending the lifespan of your garage door.
New Garage Door Installations – Enhance the curb appeal of your home and improve security with a new garage door installation. We offer a wide selection of high-quality doors to suit your style and budget, professionally installed for optimal performance.
Roll-Up Screens & Screen Doors – Enjoy fresh air without the nuisance of insects and debris with our roll-up screens and screen doors. We provide durable and retractable solutions, allowing you to transform your garage into a versatile space.
Hurricane Shutters – Protect your home during severe weather conditions with our sturdy hurricane shutters. Our expertly installed shutters provide an extra layer of security, safeguarding your property from potential damage.
New Custom Overhead Garage Doors – Elevate the look of your home with a custom overhead garage door. Our experienced craftsmen will work closely with you to design and install a door that reflects your personal style and complements your property's architecture.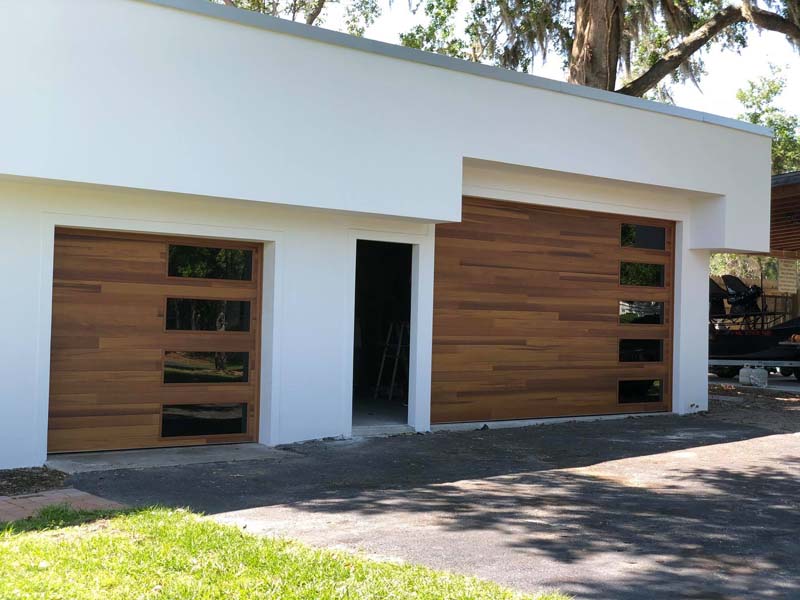 Our Comprehensive Commercial Services
At H&H Garage Doors, we recognize the significance of reliable and secure garage doors for commercial properties. Our team of experienced professionals is well-equipped to deliver comprehensive commercial garage door services, ensuring your business's efficient operation and safety. Discover our range of commercial repair solutions:
Commercial Garage Door Installations – Enhance the functionality and appearance of your commercial space with our professional installation services. We provide a diverse selection of durable and secure doors that can be customized to meet the unique requirements of your business, ensuring seamless access and protection.
Commercial Garage Door Repairs – Our highly skilled technicians specialize in addressing various issues related to commercial garage doors, including faulty openers, damaged panels, or malfunctioning components. With our expertise and prompt response, we strive to minimize operational disruptions, allowing your business to run smoothly.
Emergency Garage Door Services
When emergencies strike and your garage door malfunctions, you can rely on H&H Garage Doors for prompt and efficient emergency garage door services and repairs. We understand the urgency of the situation and are ready to assist you 24/7. Our skilled technicians are equipped with the necessary tools and expertise to handle any emergency, whether it's a broken spring, damaged tracks, or a malfunctioning opener. We prioritize your safety and convenience, working swiftly to restore functionality and ensure the security of your property. Trust H&H Garage Doors for your emergency garage door needs, and let us provide you with reliable and trustworthy service when you need it most.
Contact H&H Garage Doors in Oviedo, FL
Your search for a reliable and reputable garage door service provider ends here. H&H Garage Doors has been serving the Oviedo, FL, area with pride and integrity for over 20 years. Our commitment to excellence, unmatched expertise, and personalized approach has made us the preferred choice for countless homeowners and businesses. When you choose H&H Garage Doors, you can rest assured that you are receiving top-notch service from a dedicated team of professionals. From installations to repairs and everything in between, we have the knowledge and skills to handle all your garage door needs. Experience the H&H difference – contact us today and discover why we are the trusted name in garage door services.
Contact the Overhead Door Experts in Greater Orlando Today!