Skip to Content
Trust H&H Garage Doors for Your Commercial Garage Door Repair
If you are a business owner, it is understandable that you do not give much thought to your overhead door. You have many other pressing concerns. However, if your overhead garage door malfunctions, the results could be disastrous. From lost working time and revenue to more extreme cases that involve the police or fire departments, your business and profits may suffer. But thanks to H&H Garage Doors, you do not have to worry about your commercial overhead doors! We offer reliable installations and speedy commercial garage door repairs that get the job done right the first time. We not only focus on function but also aesthetics for your commercial garage doors. Our garage door company can help you minimize interruptions to your workflow and give you the curb appeal you need to impress your new and existing customers.
Types of Commercial Doors
At H&H Garage Doors, we have a wide selection of high-quality commercial garage doors ready for installation. Many businesses opt for steel garage doors because they are known for being low-maintenance and extremely affordable. However, we offer many other commercial garage door types for all types of industries, including: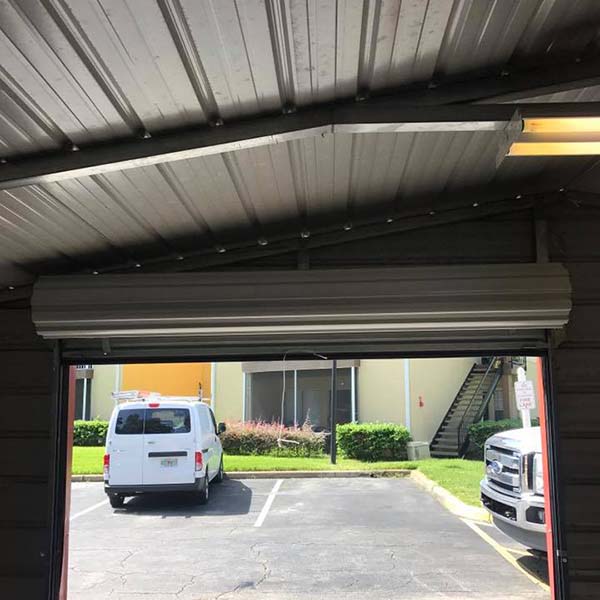 Roll-Up Doors
Manufacturers fabricate commercial roll-up doors from the most durable, secure steel available. They use vertical channels that gather the door into a roll at the top instead of sliding along tracks. This gives both companies and their customers fast and easy access into their commercial space. Roll-up doors offer various commercial benefits, including improved security, enhanced insulation, reduced external noise, dynamic cost savings, unmatched durability, and exceptional weather resistance. Commercial property owners employ steel roll-up doors in almost every commercial enterprise, from shopping centers and industrial facilities to medical and government complexes.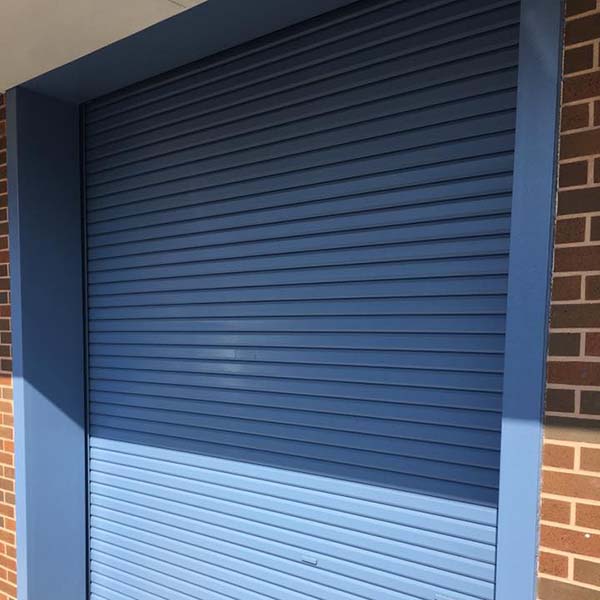 Security Doors
Steel security doors use metal sheets wrapped around a hollow or honeycombed core for their construction. They make the ideal security feature due to their durability, high fire ratings, variety, versatility, and customization. Steel security doors are energy-efficient, as the space between the steel panels acts as insulation. In terms of cost and maintenance, steel doors save you more on installation, are nearly impervious to fire, and do not warp, bend, or bow like wood doors. Best of all, steel doors come in various colors, offer embossment and window options, and let you choose additional customization options that are unavailable with other door types.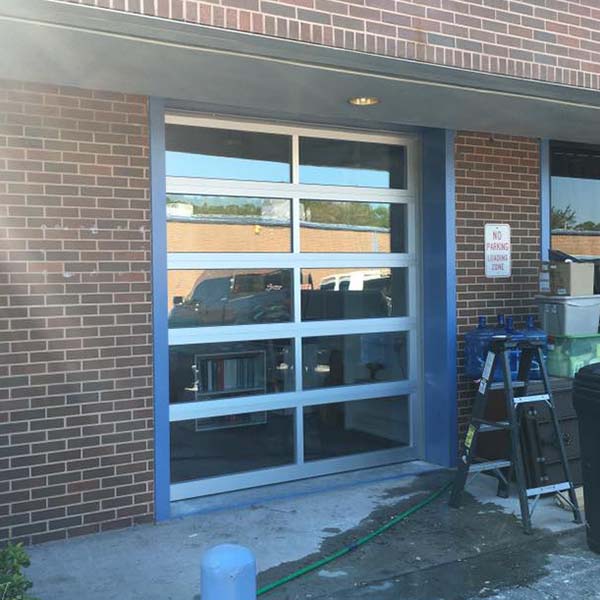 Other Commercial Garage Garage Doors
In addition to premier roll-up and security doors, we also install, repair, and replace a broad range of door options, including wood garage doors, composite garage doors, sectional garage doors, warehouse garage doors, rolling sheet garage doors, and many more. Talk to our garage door service experts and let us fulfill your unique needs.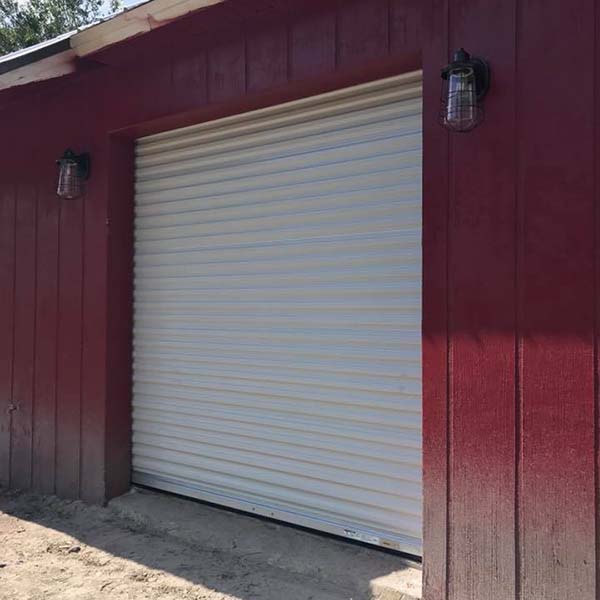 Commercial Garage Door Installations
At H&H Garage Doors, we are proud to be a trusted provider of commercial roll-up doors and security doors for local businesses of all kinds. We help keep inventory safe inside facilities and keep would-be thieves out with our top-quality products and installation techniques. Whether your company needs a full overhaul of your entryways, or you are just looking to add an extra layer of security, our installation techs have the knowledge and experience you need. We will always work with your layout, budget, and specifications for any installation. Working with us, you get insights, guidance, transparency, and speed. Our commercial garage door installations are easy and efficient and deliver unmatched peace of mind in knowing our doors protect your livelihood against fire, weather, theft, and loss. When you need premier installations for your commercial doors, we are here to help.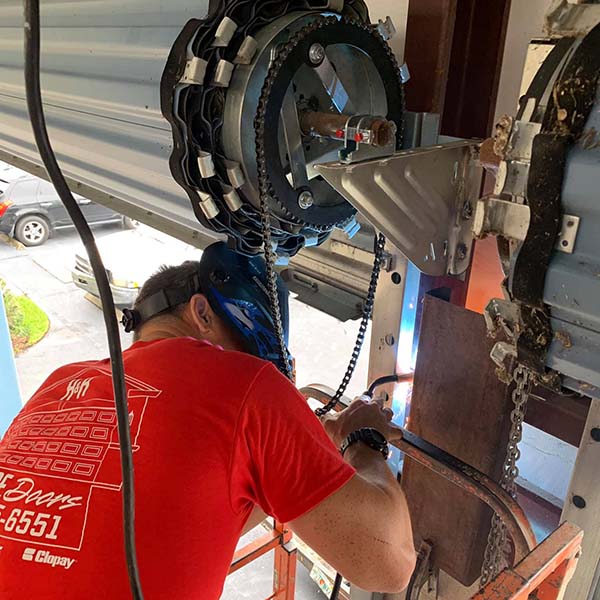 Commercial Garage Door Repairs
When it comes to repairs, our trained technicians can assist with almost every make and commercial garage door model. Whether you have a ribbed steel door, sectional door, or overhead door, we understand that your repairs can be a time-sensitive issue. That is why we will always work around the clock to ensure your business is never compromised. Our company uses only the highest-quality parts for our repair and maintenance services. We minimize downtime. As your go-to repair experts, our repair professionals ensure that your commercial garage door can operate trouble-free for as long as you own the property. Every repair we conduct comes with a thorough, honest initial diagnosis, clear and concise explanation of all work, flawless execution, and a standard follow-up. We have built our company to what it is today through exceptional repair service, and we look forward to proving our skills to your organization.
Benefits of Professional Commercial Garage Door Service
Garage door repair and installation is not a DIY job, especially for your business. Aside from using your time to focus on your business, you generally will not have the proper skills, tools, or resources to execute the professional garage door services you need. That is why hiring a professional makes sense for your services. Benefits of professional commercial garage door services include:
Knowledge
Our highly-trained techs have the expertise to identify issues with your door quickly. We have seen it all and done it all regarding installations, repairs, and maintenance. Using us means you get highly-skilled experts doing all the problem solving, so you do not have to. Our company uses our expertise to benefit you.
Tools
Hiring us for your commercial garage door services gives you access to the best products, parts, and resources available. We are accustomed to working on these types of jobs, and we know what companies and additional experts to contact to get the job done right. The latest garage door types and components are no mystery to us. We acquire every part and piece of equipment necessary to complete our work quickly, so there is little interruption to your daily transactions.
Safety
Malfunctioning garage doors are a serious safety hazard. Your employees could be injured on the job, costing you thousands in lost productivity and potential legal action. Our garage door professionals remove that danger and offer the safety you want for any service. Our company follows all state and federal safety regulations and adheres to a higher code.
Selection
Many of the garage door products available offer excellent customization options based on your unique style. These modifications can include materials, colors, finishes, embossments, insulation, and so much more. Our company has access to these selections and passes that choice onto you.
Affordability
Even starting a repair or new garage door installation can be complicated. You need to know what materials to get, where to get them, and at what price. You want quality, durability, and good looks. But you also do not want to pay a premium price for all that. With expert service technicians, all of the details are handled for you from start to finish. We know whom to contact for the right materials at the right price. We focus on the durability, longevity, and function of all of your components. Our company installs, repairs, and maintains all of your doors with your budget and timeframe. Working with us, you save more time and more money with every call.
Guarantees
Completing installations, repairs, or maintenance of your garage doors does not guarantee success. Working with professionals does. We stand behind all of our services and will always come back to your facilities to remedy any issues you experience with our work. Talk to our technicians today about our solutions. Why Choose H&H Garage for
Commercial Repairs & Installations?
Why work with H&H Garage Doors for your commercial-grade installations and repairs? We offer a wide array of benefits from our professional assistance:
Commercial Garage Door Installations
We install and replace your commercial doors and are 100% dedicated to providing you with an unforgettable customer service experience. Our experienced technicians will walk you through your different options and ensure the final product enhances curb appeal and has a long lifespan. We make sure your work is done to local and state codes. We provide outstanding service for roll-up doors (also called coiling doors) and security doors.
Commercial Garage Door Repairs
We offer expert and timely repair service to ensure your business is back on its feet as quickly as possible. Some of our services include garage door opener/roller repairs and replacements, full door servicing, failed motor assembly repair, bent or damaged tracks repair, and service door repair. Our team has years of training and is qualified to handle any problems with your commercial garage door. We provide fast, guaranteed results within no time.
Contact H&H Garage Doors
You can count on H&H Garage Doors to work hard to earn and keep your business. Our professionals are dedicated to providing extraordinary service for commercial customers in Lake Mary, Sanford, Altamonte Springs, Orlando, and the surrounding areas in Seminole and Orange Counties. Contact us today to make an appointment for commercial garage door services that get the job done right. We look forward to hearing from you!
Contact the Overhead Door Experts in Greater Orlando Today!