Skip to Content
Residential Garage Door Installation in the Greater Orlando Area
Enhance Your Home With a Beautiful New Garage Door
Whether your garage door has reached the end of its lifespan or it's looking unattractive from old age and wear and tear, it's time to have it replaced. H&H Garage Doors specializes in new residential garage door installations, which should always be trusted to a garage door professional. Our contractors have the level of expertise and knowledge to handle this job, so learn more and contact us today for your free quote. We're the leading residential new garage door installation professionals in Seminole County, FL, including Lake Mary, Sanford, Orlando, Orange County, and Volusia County. We'd be happy to help you select the perfect new garage door and then install it for you. We'll help you make the best choice for your style and budget, so pick up the phone to get the process started.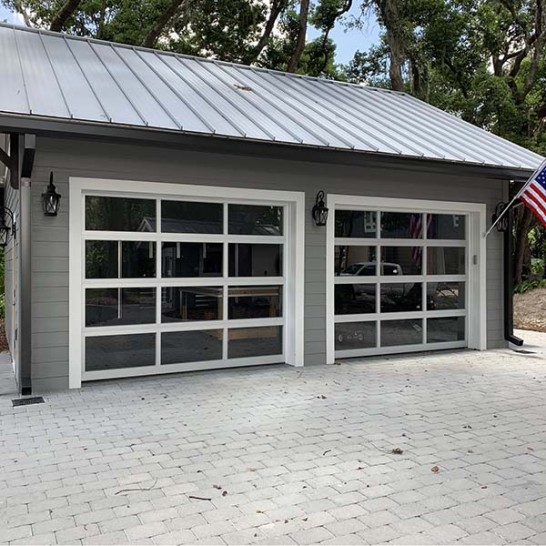 Top-Quality New Garage Doors in Orlando, FL
Here at H&H Garage Doors, we offer many types of garage doors for your residential garage door needs. Just a few of the many options we offer include:
Aluminum garage doors
Fiberglass garage doors
Steel garage doors
Vinyl garage doors
Wood garage doors
And more
You Don't Need to Be a Garage Door Expert, Because We Are
We'll help you understand everything you need to know about these garage door options. We know that a new garage door installation is a big project and investment. That's why we make satisfaction our top priority, and we want you to know all the pros and cons of each type of garage door. We also offer custom overhead garage doors if you're looking for something out of the ordinary. Our garage door installation specialist will take a precise measurement of your garage door and then discuss your budget and preferences, so we can help you decide which garage door style best suits you. When it comes to new garage door installation in Orlando and Seminole County, FL, H&H Garage Doors is proud to be your top service provider.
We know you'll enjoy our high-quality workmanship, our unmatched customer service, and our dedication to your utmost satisfaction. We offer full-service garage door installations and will take care of each and every step of the process. That means we take the measurements, handle the installation, clean up, and even haul away your old garage door. H&H Garage Doors has become known for our efficiency, wide selection of products, and commitment to honest service. All of this means that we're the best garage door company to contact for a new garage door installment.
Choose the Best for Your Garage Door Installation
Throughout the Seminole County and Orlando areas, we're the go-to company for all new garage door installations and replacements. As the leading garage door installation company, we've learned the importance of being able to offer our customer base the following perks for us to remain successful:
Value For Your Money
When you need a new garage door, you want to make sure you're spending your money wisely and where it's going. Our garage door installation technicians provide quality service at an extremely competitive price. We proudly offer extended warranties and specials because we realize the importance of having a top-quality garage door without breaking the bank.
Reliable Professionals
All of our garage door installation experts are licensed and insured to give you peace of mind in knowing that not just anyone is working on your garage door. Our contractors are extremely knowledgeable on all types of garage doors, and we never use subcontractors. We're able to service and install a wide range of leading brand garage doors of all styles, shapes, and sizes. We can also provide emergency service if necessary, so don't hesitate to contact us for all your garage door needs.
Experience & Expertise
We have decades of combined professional experience providing quality new garage door installations in Orlando and Seminole County, FL. Our technicians regularly undergo intensive training, so we can stay on top of the latest garage door techniques and technology to deliver you the best quality of service for all your garage door replacement needs. All of our trucks are fully stocked with all the parts our technicians might need, which means they can get the job done right then and there without having to come back later.
Get a New Garage Door Today
If you're ready to schedule your new garage door installation, contact H&H Garage Doors today for a free Estimate quote. We can help you figure out exactly which type of garage door you want for your Florida home or business. Our experienced technicians will utilize their expertise through every step of the process, and we'll even haul away your old garage door for you! Contact us today to learn more or book your appointment online right now.
Contact the Overhead Door Experts in Greater Orlando Today!