Skip to Content
Roll-Up Garage Doors in the Greater Orlando Area
Installing & Repairing Roll-Up Garage Doors
When you need service, repair, or replacement for your roll-up garage doors in the Greater Orlando area, trust the experts at H&H Garage Doors. Roll-up doors are also known as coiling doors. They're one of the most versatile garage doors for business purposes. Roll-up garage doors are long-lasting and are available in insulated and non-insulated form. Roll-up doors are incredibly durable and usually last for many years. These garage doors make an excellent option for commercial applications, including warehouses and storage facilities. Learn more about roll-up garage doors and get in touch with our team today for repair or installation services.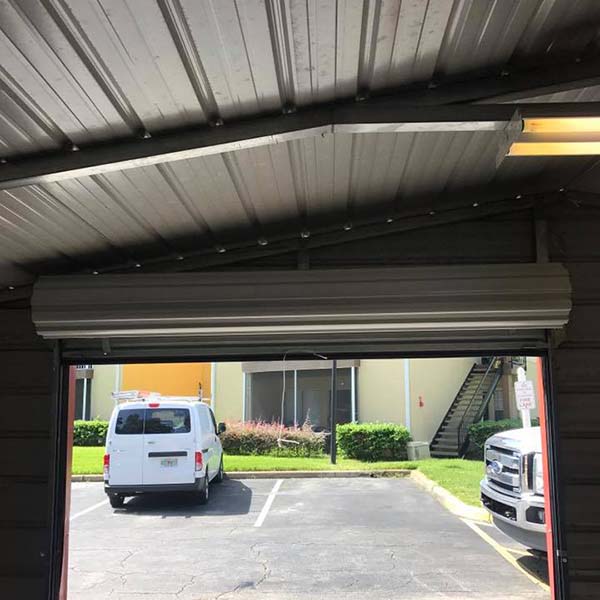 What Are Roll-Up Garage Doors?
You might not know roll-up garage doors by name, but you've likely seen them plenty of times at places such as retail centers, government buildings, and distribution centers. These garage doors are made of horizontal sheets of steel and don't run on a horizontal track system. When a roll-up garage door is opened, the steel sheets coil up atop the inside of the garage. The two main types of roll-up garage doors are roll-up sheet doors and rolling steel doors.
Various Types of Roll-Up Garage Doors
While roll-up garage doors are most often used for commercial purposes, they can be a great option in many situations. Types of roll-up garage doors we can install and work on include open-air doors, full-closure doors, and side-folding doors. We invite you to learn more about the two main types of roll-up garage doors:
Roll-Up Sheet Doors
You're likely to see these doors for backyard sheds, storage facilities, mini-warehouses, and other commercial facilities. Roll-up sheet doors use one large piece of steel. They're ideal for light commercial applications and are the most affordable type of roll-up garage door.
Rolling Steel Doors
While they might appear to be the same as roll-up sheet doors, rolling steel doors don't work exactly the same way. Rolling steel doors are made of metal slats instead of one large steel sheet. Rolling steel doors are primarily used for industrial purposes and high-security areas, such as factories, transit centers, and pharmacy counter windows.
Commercial Roll-Up Garage Door Repair & Installation
Our team would be happy to bring you up to speed on which door would be best for you and your organization. While roll-up garage doors are primarily used for commercial applications, we also offer residential roll-up garage door services. They can be an excellent option for backyard storage units, barns, and other applications. Find out more about the benefits of roll-up garage doors:
Durability
Steel resists everyday wear and tear as well as harsh weather conditions. That means your roll-up garage door will last longer than traditional garage door materials.
Heightened Security
Roll-up doors provide more security than sectional doors. The strength of steel can keep intruders out and your valuables safe. Roll-up garage doors are fire-resistant.
Space-Saving
Roll-up garage doors take up very little overhead room because of the way they're designed differently than sectional garage doors.
Insulated vs. Non-Insulated Roll-Up Garage Doors
If you run a commercial facility, energy costs are a significant consideration. An insulated roll-up garage door could save you money on energy bills. Insulated garage doors are made of two layers of steel with insulation in between them. This makes these garage doors much thicker than their non-insulated counterparts. Insulated garage doors have a higher R-value, are made with environmentally-friendly insulation, and can also help with sound control.
Factors to Consider About Roll-Up Garage Doors
When determining which type of garage door you need for your home or business, there are many factors to consider. H&H Garage Doors also installs and repairs security doors for commercial purposes as well as a plethora of residential garage door openers. Some factors to consider include maintenance, frequency of use, and the amount of space you have. Our team of professionals would be happy to help you narrow down your options and make the right choice when it comes to garage doors. Why Hire Our Team for Roll-Up Garage Door Service?
H&H Garage Doors is committed to finding the perfect type of garage door to fit your needs. Our team of technicians is here to help you by offering installation and repair services for all kinds of roll-up garage doors. All our services will meet local and state codes, and we offer a satisfaction guarantee. All of our technicians are fully licensed and insured and receive regular training to provide a fantastic customer service experience. There's no job too large or tricky for us to handle. We can retrofit older structures to easily accommodate a modern roller door. We carry and install the most trusted brands in garage doors, so contact us today to get started and request an estimate.
Contact the Overhead Door Experts in Greater Orlando Today!