Skip to Content
Commercial Overhead Door Repair in Seminole County
Expert Commercial Overhead Door Repair
H&H Garage Doors provides overhead garage door services throughout Seminole County, working with both residential and commercial clients. Along with installation and maintenance, we also specialize in commercial overhead door repair. Contact us today to learn more about our commercial services!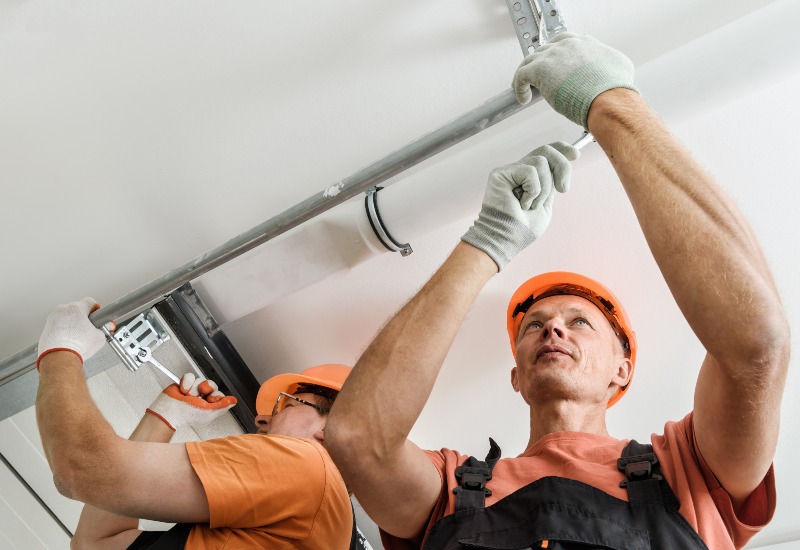 What Are Commercial Overhead Doors?
Commercial overhead doors are known for their vertical opening and closing movements. These doors utilize door tracks that hang from the ceiling to facilitate the vertical function. Commercial overhead doors can be opened and closed manually by pulling them up or down, but it is common for them to be controlled by a garage door opener for convenience and safety. These doors can operate in a standard rolling back function, coiling above the opening or straight vertical lift.
Top-Quality, High Performing Commercial Overhead Doors
We only work with the highest quality brands in the garage door industry, which means our clients have access to top-quality and high performing commercial overhead doors. Working with these reliable manufacturers allows us to have the skills and tools needed to perform repairs on a variety of overhead door styles. Commercial Overhead Door Repair and Services
Our technicians offer an assortment of commercial overhead door repair services and other services, including:
Failed motor assembly repair
Broken/uneven spring repair
Damaged/bent/misaligned track repair
Garage door opener repair
Service door/sectional panel repair
New door repair or replacement
Types of Overhead Doors
There are many different overhead door styles, each offering their own benefits that may appeal to different types of businesses. Different types of commercial overhead doors include:
Rolling Service Doors – These doors feature interlocking slats of metal that open and close by rolling around a drum.
Sectional Doors – These doors feature panels that help with insulation as well as sound reduction.
Aluminum and Glass Overhead Doors – These doors combine glass panels with aluminum, providing a look inside the building and enhancing a building's aesthetic appeal.
Security Grilles – These feature aluminum or galvanized steel and are typically used for security purposes when businesses are closed.
24/7 Emergency Overhead Door Repair Services
Overhead doors are also commonly used in firehouses and medical facilities, meaning a malfunction could have severe consequences for the life and health of people in need of emergency care.
These types of doors are common in other types of businesses, as well. It's important to make sure your business is always running smoothly and properly—even during non-operational hours. A malfunctioning overhead door could present a safety hazard for your employees, customers, and anyone passing by your business. If a door is left partially or fully open, it could put your product at risk for being stolen or damaged. If you are not able to access certain products, you could lose out on business and get behind on your projected numbers.
You don't have to worry about overhead door malfunctions when you contact H&H Garage Doors. We offer 24/7 emergency door repair services so we can take care of the problem and let you get back to business as quickly as possible. Schedule an Appointment for Garage Door Services
Does your business need commercial overhead door repair? Contact our team of garage door installation, maintenance, and repair experts here at H&H Garage Doors. Let us help you get your business back to running smoothly with our garage door repair services.
Contact the Overhead Door Experts in Greater Orlando Today!